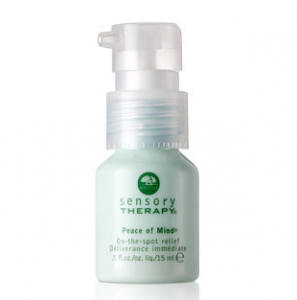 The last few weeks have been grueling.  Packing, moving, going— just doing a lot.  One thing that kept me going was my Peace Of Mind.  I'm not talking about a state of being (though that helps).  This is one of my go-to products,Peace Of Mind by Origins.  It's therapy for your senses.  A quick dose of aromatherapy that refreshes, soothes, and calms me.  It's a blend of basil, eucalyptus and peppermint.
I use it whenever Murphy's law is in effect, I'm groggy, enduring a stuffy nose, battling a headache, or someone has tread on my weary nerves.  It works!  While it's recommended that you put it on your pulse points, I like to place a dab in my palm and take a deep breath beforehand.  It's like a mint for your senses-literally.  That feeling that you get when you have Altoids or spritz cool water on your face—it wakes you up in a cool, refreshing way.  Instead of feeling hyped-up or propped-up the way you do with excess caffeine, you feel…cool and re-energized.
It comes in a small bottle but it goes a long way.  Peace Of Mind ($12) is the perfect secret weapon for your less-stress strategy!