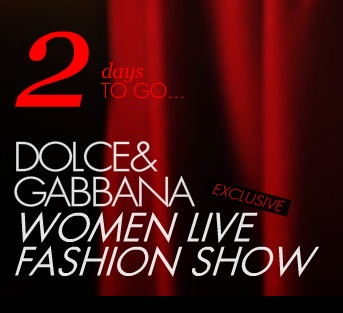 Fashion week may be over stateside, but Dolce & Gabbana's runway show is going digital.  In just two days, Dolce & Gabbana will live stream their women's Summer 2012 fashion show via Facebook, iPhone and Droid.  No matter where you are in the world, you'll have a front row seat in Milan!   For details,  click here to watch on Facebook, or mobile!
Meanwhile, I'll be going live with the brand this weekend.  With my Dolce & Gabbana shine lipstick, that is.  I'd seen so many adds for their makeup line, but my formal introduction came on Fashion's Night Out at Saks  Fifth Avenue.  I fell in love with Violet.  A sheer shade somewhere between plum and magenta that offered the right amount of shine and color to brighten these fall days.
I'd been searching high and low for the right shade and finally, I found it.  What  I really like is that they have a trove of colors to choose from.  In fact, I fell just a hard for Delicious-a muted citrus in their classic formula and Gold, which needs no explanation!
Any plans this weekend?  Let me know where you're going and of course, what you're wearing?  A girl is always looking for ideas!