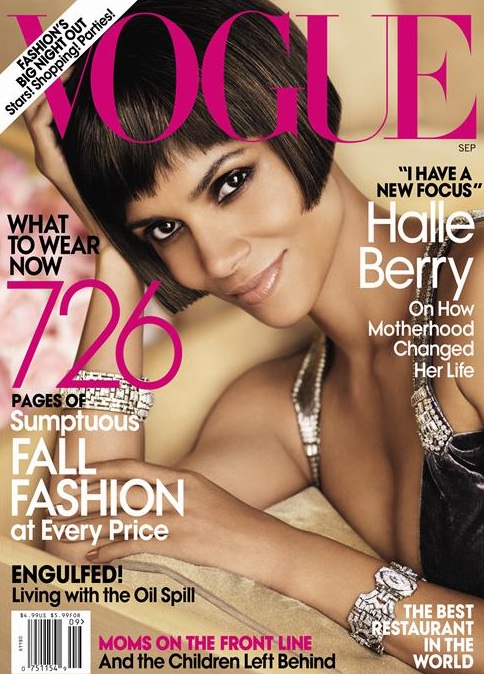 The September issues of fashion magazines are finally hitting mail boxes and news stands across the country.  In case you didn't know, September is the beginning of the fashion year.  This year Vogue magazine has chosen Academy Award-winning actress Halle Berry for the cover.  That is no small feat.  Snagging the cover of Vogue can change a career from basic fab to uber status.  I'm sure they could cast a reality show on who gets the cover of the September issue alone.  Not that Ms. Berry needed any help.  Still we can't help but mention and celebrate the fact that in the past 100 years you can count the number of black women who have appeared on the cover of Vogue on four fingers and two thumbs.  So this adds another feather in the cap for Halle's already stellar success.
The spread evokes some serious 1920′s glamour.  While some have taken issue with the bobbed wig chosen for the photo shoot, I for one, love it.  While I am a fan of Halle's signature short 'do, seeing the same look would have been kind of…hum drum.  This is high fashion.  This is about taking risk, doing something different, creating a fantasy and having fun.  Yes, it could have been slightly less "helmetized" in some shots, but I think it worked and she "worked it".
In the interview Halle discussed her career, motherhood and of course, her love life.  Well, she made some interesting comments and sparked a bit of controversy with her comment about women being able to conceive and God.  I read the full article and I chalk it up to one of two things, either she doesn't know any better or she didn't mean it the way it sounded or came across in print.  That can happen to the best of us, but I'm not going to get up in arms about it.  Here's a few snippets from the interview.  You can read the full Interview, here.  What do you think?
Why she's talking now: "What (being on the cover of the September Vogue) means for a woman of color and what that means in the fashion world, what that means to pop culture, there was no way I could say, 'No, I'm not going to be on the biggest issue of the year.' "
On her breakup with Aubry: "It's just that you realize you are not meant to go the distance with everybody. … We were meant to bring this amazing little person into the world. And I think that's why we came together. And because of that, we are going to be together forever, all three of us."
Does her no-more-marriage stance still stand? "Yes. I'm not done with love, but I refuse to settle. I am a hopeless romantic. And I won't stop till I get it right. … I don't think I'm unlike a lot of people. I am just someone who is trying to find that mate, and I think it's a really hard thing to do. And I'm not willing to stay somewhere where I am really not happy. And I am not willing to pretend I am for the kid's sake or so that I don't have to go through another public humiliation."
Why she thinks 'nature has got it all wrong': "When you are younger, it should be harder to get pregnant, and as you get older, it should be easier. When you are so ready, you can't do it to save your life. And when you are 21, you are so not ready, but you are ripe as could be. The eggs should become more developed the older you get, not die slowly from the day you're born. That's one thing God got wrong."
On asking Nahla to say Berry's name in case she ever got lost: "She thought about it for a second, and finally she said, 'Halle Blueberries!' Blueberries are her favorite fruit. … I'm just glad she didn't say 'Halle Blackberry.' "
On being comfortable with her sexuality: "That comes with age … I've been slowly getting there. If the world wouldn't persecute me, I'd take nude pictures every day of the week."
On the so-called Oscar curse: "People win Oscars, and then it seems like they fall off the planet. And that's partly because a huge expectation walks in the room and sits right down on top of your head. The moment I won the Oscar, I felt the tear down the very next day. I thought, if I'm going down, I'm going down taking chances and daring to risk. Hence… Catwoman."
On the biggest misconception people have about her: "That I am this brooding, twisted, lovesick person who just can't get it right in life. Every story about me is so heavy and dramatic. That's not how I do life. But that's the impression people have, and that's what keeps getting reiterated. As if I'm still stuck in all the muck of the past. And I am so not."
Rainy Day Diva is looking for ways to make your blog experience better.  Please take a moment to participate in a brief survey. Click here.  Your feedback is appreciated.  Thank you!